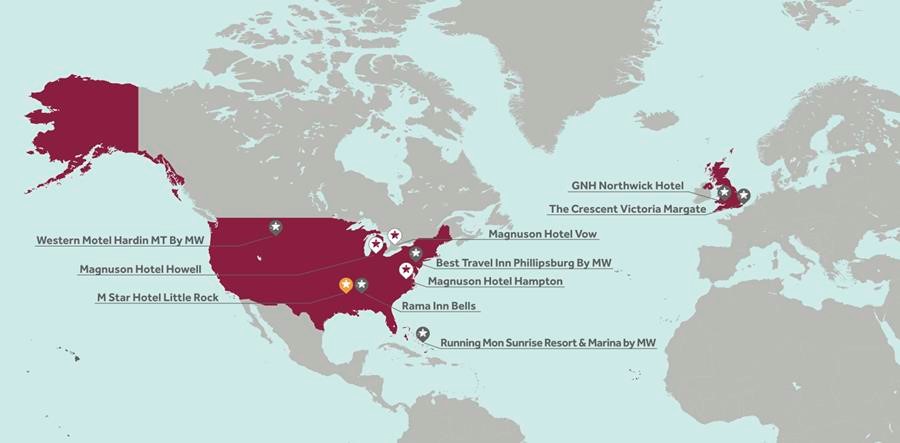 For our 'By Magnuson Worldwide' collection, we're thrilled to welcome the Best Travel Inn Phillipsburg in New Jersey which comes to us from Red Lion and America's Best Value Inns. Also, in the USA, Western Motel Hardin is upgrading to the collection as our first soft-branded property in Montana. Across the pond in the UK, we are joined by The Crescent Victoria Margate as our first collection property in the United Kingdom. Further afield, we have the tropical paradise of Running Mon Sunrise Resort and Marina in the Bahamas who have just joined the collection as a resort hotel.

Finally, we do have some hotels joining as independents including the Northwick Hotel in the United Kingdom which is a part of the Great National Hotels as well as the Rama Inn Bells in Tennessee.

Thomas Magnuson CEO of Magnuson Worldwide says: "We are delighted to be welcoming these new properties to the Magnuson family and we welcome our guests to enjoy this expanded footprint."

About Magnuson Worldwide:
Since its launch fifteen years ago, Magnuson Worldwide has become America's fastest growing hotel brand and a top 15 global chain, marketing over 1,000 hotels across six countries and three continents. Magnuson Worldwide's newly formed distribution partnership with Chinese operator Jin Jiang Hotels and Europe's Louvre Hotels is the world's largest hotel alliance, forming a consortium of over 8,000 hotels and 800,000 rooms worldwide, equal to the size of a top 2 global hotel chain.

For more information:
i[email protected]
US 509.747.8713
UK (+44) 020 3051 2724.