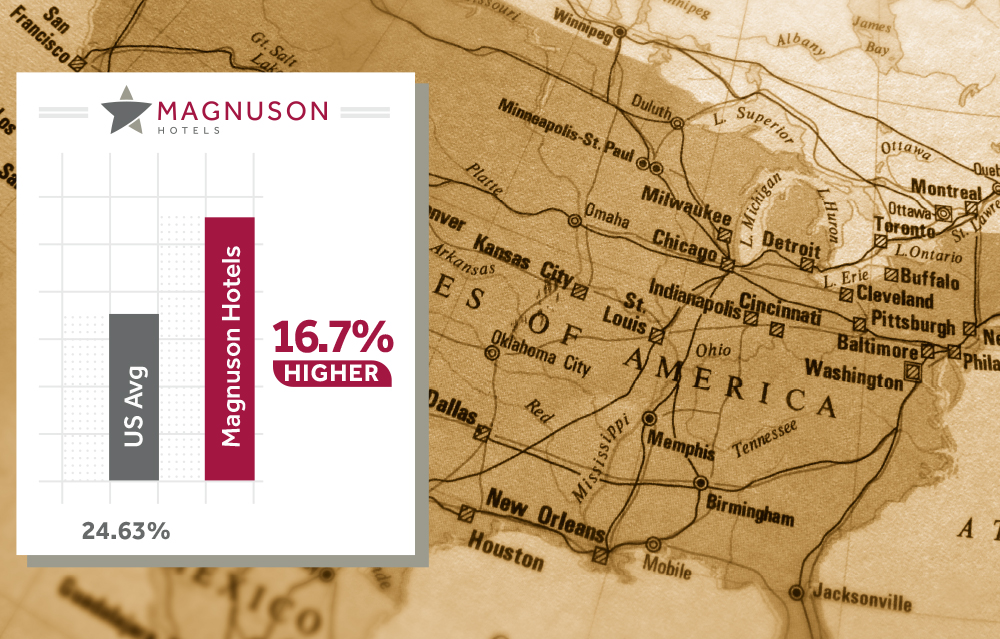 28 May 2020
London UK/Spokane WA – 
Magnuson Hotels, the fast-growing franchise alternative today reported its April occupancy (percentage of rooms sold in a hotel) surpassed the USA April average of 24.63% by 16.7%, as measured by STR (Smith Travel Research).
Although all markets are currently impacted by Covid 19, the company reported highest performance in Maine, Knoxville TN, Texas, Florida and Madison WI, with some Magnuson Hotel affiliates recording April occupancies as high as 80.6%.

"Even though the company reported a Q1 portfolio-wide occupancy reduction of 0.4%, against an industry-wide fall of 15% across the USA for Q1, our hotel affiliates are now experiencing stabilisation and profitable growth," stated company CEO Thomas Magnuson. 
As STR records an April USA RevPAR (revenue per available room) decrease of 79.9%, Magnuson locations in Maine, California, Texas, Virginia, Florida, Wisconsin, Ohio, North Carolina and Kentucky have seen April revenue per available room up to 52.3% higher than local market averages as measured by STR.
Magnuson states that its midscale business segment moved to a 100% focus on serving essential services workers across secondary tertiary, rural and highways markets of the USA.  "While traditional corporate travel is in a holding pattern, USA construction across all markets is moving ahead with continued activity in trucking, transportation, public safety, medical, government and essential services."
"Although it is difficult to forecast in a traditional sense, we are optimistic about conservative increases in both leisure and non-leisure segments, adds Thomas Magnuson.  "Our data shows leisure travel volumes increasing in many markets, largely powered by short regional family road trips."
About Magnuson Hotels
Magnuson Hotels, headquartered in London UK and Spokane WA stands as a top 20 global chain with over 65,000 hotels and 700 airlines on its worldwide booking platform www.magnusonhotels.com.  Founded in 2003, Magnuson Hotels gives independently minded hotel owners a way to achieve global brand support at a fraction of the cost of traditional franchise chains. 
Within the past 2 years, Magnuson has developed the Magnuson Cloud Smart Hub, a cloud based 'all in one' distribution and hotel operations platform with enhanced performance functionalities combining hotel PMS (Property Management System), channel management and direct connects to all global booking channels. Functionalities include automated pricing, easy integrations via API capabilities for hotel operations making it easy to add value for automation and technology advancement.
In 2019, the company outperformed the USA STR RevPAR (0.9 percent) by 20X. 
Magnuson Hotels'  Q1 2020 performance report can be found here.
For more information visit magnusonhotels.com or email [email protected]
US +1 509 747 8713    UK +44 20 3051 2724