Magnuson Hotels, America's fastest growing brand and the world's largest independent hotel group, announced today a launch offer for their new Magnuson Rewards loyalty program aimed at capturing and converting guests visiting on bookings made via online travel agencies (OTA).
Magnuson Rewards members receive a $25 Amazon.com gift card for every 10 nights they stay at participating properties when booking direct. For a limited time, guests that register directly at a participating hotel during their visit will get all the nights from that stay as credit. (Even if the booking was made via an OTA.) Those members will just need to book direct in future to redeem the Amazon.com gift card.
Magnuson Rewards is yet another Magnuson Hotels' initiative designed to drive global distribution direct to hotel owners; aiding their partners in bypassing the fees, charges and conditions of OTA's. Partner hotels pay nothing to participate and members benefit from transparent terms and conditions.
Most traditional hotel brands and franchises offer some type of loyalty or rewards program but the cost of managing these programs is typically financed by fees ranging from 2 to 6% of reservation revenue. For a 100-room midscale hotel at 65% occupancy, these costs could add up to over $100k per year! With Magnuson Rewards, our partners enjoy all the upside without any extra overheads.
"Magnuson Rewards members get paid, not points." says Amanda Fox Rosowski, Loyalty & CRM Manager at Magnuson Hotels. "Our guests don't need another pot of points they'll never use. They want something real that is easy to earn and easy to redeem. What could be simpler than an Amazon.com gift card for every 10 nights direct?"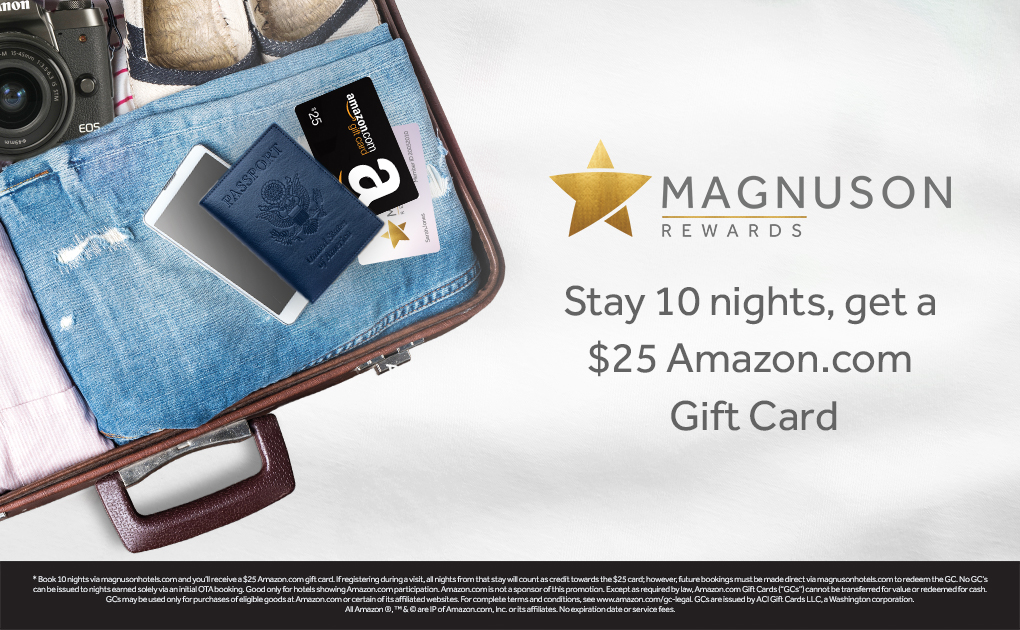 About Magnuson Hotels:
Headquartered in London UK and Spokane WA, Magnuson Hotels has become the fastest growing hotel brand in history, adding more new hotels in the last 10 years than 8 of the top 10 chains combined.
Founded in 2003 by Thomas and Melissa Magnuson, Magnuson Hotels made its initial mark as 'the low-cost alternative to franchising', and quickly became the world's largest independent hotel group. Today, Magnuson Hotels Magnuson Hotels is a top 15 global hotel group that markets over 1,000 hotels across six countries in four continents.
Magnuson Hotels' newly formed global alliance with Chinese hotel operator, Jin Jiang Hotels, as well as Louvre Hotels Group in Europe, created a consortium of over 8,000 hotels worldwide, equal to the size of a top 2 hotel chain.
Contact details